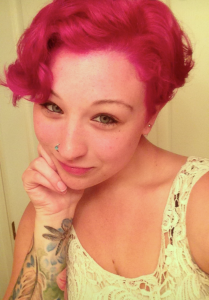 We are very pleased to announce the recipient of the DAPi scholarship for 2016. Luccia Arruda was a member of the Beta Kappa chapter of DAPi at North Shore Community College. Although she has graduated from North Shore and attends Lesley University, she has remained active with the Beta Kappa chapter and is working to establish a new chapter of DAPi at Lesley University where she is pursuing a Bachelor's degree as an English Education major. While at North Shore, Luccia held the position of vice president in the Beta Kappa chapter; she assumed leadership positions and organized and participated in numerous DAPi activities including speaking to first-year students and their parents about DAPi and obtaining accommodations; organizing and managing a poetry reading event; having several poems published in "Resisting Prefixes," the Beta Kappa chapter art and poetry magazine; and tutoring elementary students with disabilities.
Aillie McKeever, Beta Kappa advisor, writes: "Luccia spoke at a college-wide Delta Alpha Pi student panel event about learning struggles and strategies. She discussed her own obstacles to learning and addressed common misperceptions of those who struggle academically. Her insights elicited tears of recognition and appreciation from attendees. In this way, Luccia helped to destigmatize disability within the larger college community. Faculty and staff members complimented Luccia's eloquence and ability to reframe their perspectives."
Luccia exemplifies "disability, achievement and pride" and has demonstrated her enhanced skills in leadership, advocacy, and education related to disability issues. We are proud to present Luccia Arruda with the first Delta Alpha Pi Honor Society scholarship.